Comprehensive management of files,
catalogs and collections, 100 % self-manageable.
lDk offers the comprehensive management of files, catalogs, product lines and collections, from a unique tool created for professionals from numerous productive sectors.
lDk facilitates the Administrative, Material, Formative, Scientific and Productive management, through an interlinked, agile, dynamic and visual structure.
lDk have a high degree of personalization that allows the customer to be 100% autonomous and independent, both, for the purpose of the upload and layout of the information, and for the following publication, update and maintenance. Each client accesses to his lDk Content Manager through a web link with his user (name) and password, from any place and device.
OFFLINE Administrative Management
lDk allows an agile internal administrative management of the content of his database for the elaboration of consultations, reports and mailing, facilitating the access and exportation of information.
For example:
Material documentation
Movement of pieces and/or products
Conservation
Exhibition and events
Activities
Directories
Administrative file

ONLINE Administrative Management

The content manager lDk allows the implementation of multiple and versatile services that adapt to the needs of management, edition, promotion, dissemination and conservation of online digital content.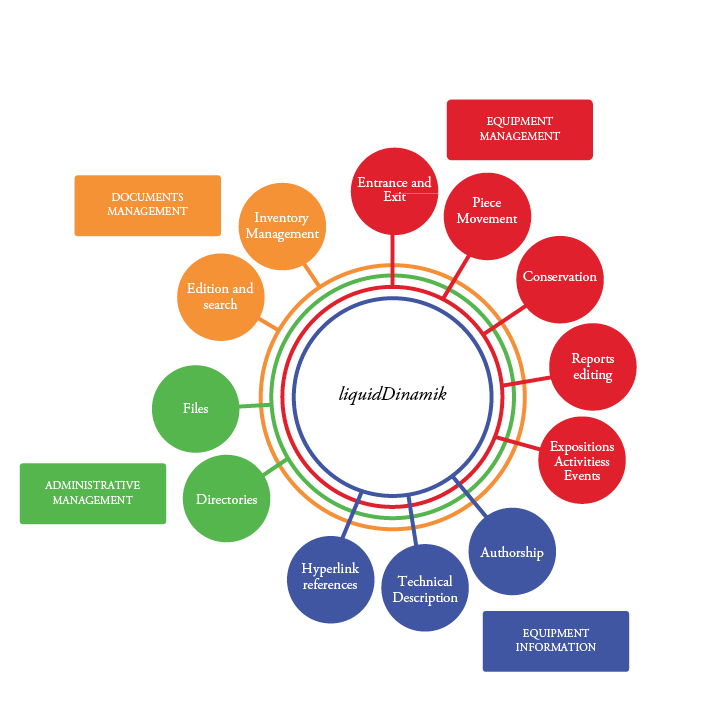 Functionality
Operational solutions for the different documentation, entry and data management tasks.
Advanced and intuitive search engines, using filters and keywords, for managers and users.
Optional display of content: Internal (Offline) and External (Online).
Multilingual in more than 21 languages.
Glocal Software, we focus on the value of the local with global projection.
Safe access with passwords.
Safe storage of all the information.
lDk software tutorial, periodically updated.
All the content is shareable on social networks.
Personal files that allow to save the content selection and user routes:
my favorites